Introduction
Wasanbon(refined sugar made from sugarcane in Japan)Compeito
We make konpeito from bottling by hand for 14 days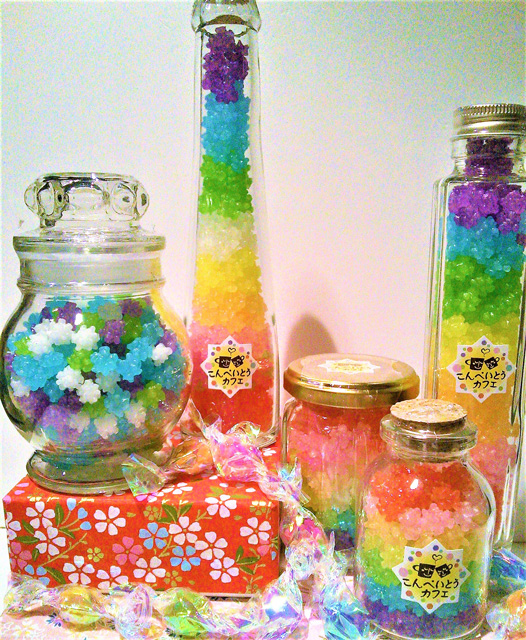 Our original brandkonpeitou, the company has developed the original products in the confectionery manufacturing plant and each contract factory (OEM), in the candy industry to burning down ofover one of the few craftsmen in the whole country is every grain carefully for 14 daysmade It is.
The Naobrand bottles all the traditional Japanese auspicious konpeitou from home.Nao brand konpeitouhas a different taste for each color, and the design is a single item that does not have the same variety, including the theme,seasonality, and idol color . There are more than 50 types of products in terms of taste types, and over 2000 types including combinations of designs and tastes, bottle shapes and limited items .
Although it is difficult to mass-produce because it is handmade, it has a wide range of interests and popularity, such as young women who are elderly with emphasis on design, quality, luxury orientation, historical value, and overseas visits and interview offers as Japanese Traditional Candy .
Photogenic gifts ♪ For wedding dragees, gifts and orders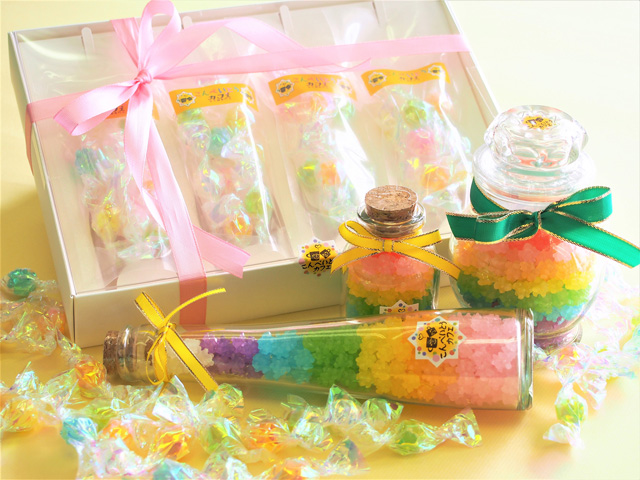 From the process of gradually increasing the size of kimping sugar by 1 mm per day, it is an auspicious thing that means "a couple will spend time building a happy family", so it is a good idea to order a wedding dragee, a gift, or a delivery item .Is also suitable.
Please feel free to contact us.
Ordering in for the wedding, reservation, contact us here
Original animation of Renjukado's character "Koi-chan, Mitsu-kun, Konpei-chan"

Confeitou
About Konpeitou
What is Konpeitou?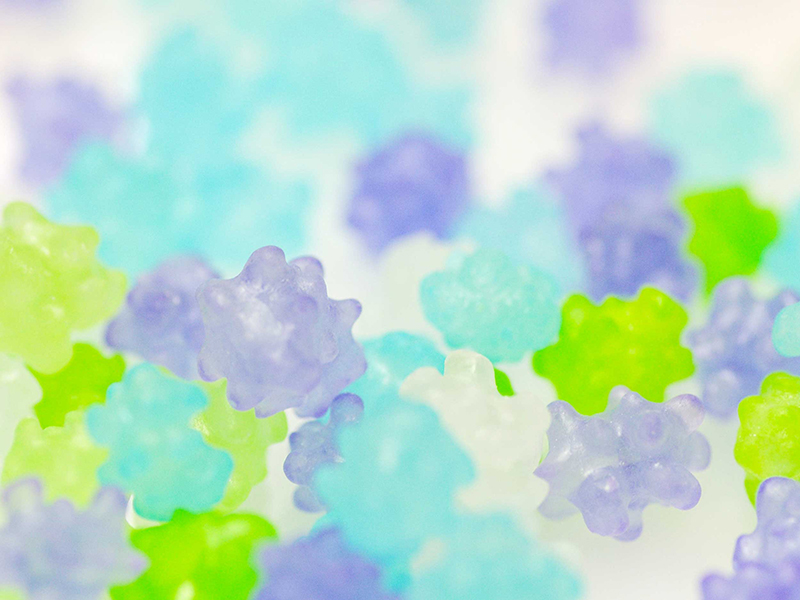 Konpeito (Compeito) is a small spherical Japanese confectionery made of sugar and molasses with a savory flavor and having irregular projections (cornered) on the surface. It may also be written as gold rice sugar, gold sucrose, or sugar flowers.
The etymology is Portuguese confeito,There are various theories about the time when Kimpei came to Japan for the first time, but it is also said to be 1546 in the Sengoku period .There is also a history that has been used in other than confectionery, has been used as a portable mouthpiece with dry bread from the Imperial Army for a long time, or used as an imperial gift.
It is an auspicious product with the meaning that "a couple spends time building a home" because it is slowly and carefully made from small sugar grains .
The beginning of Konpeitou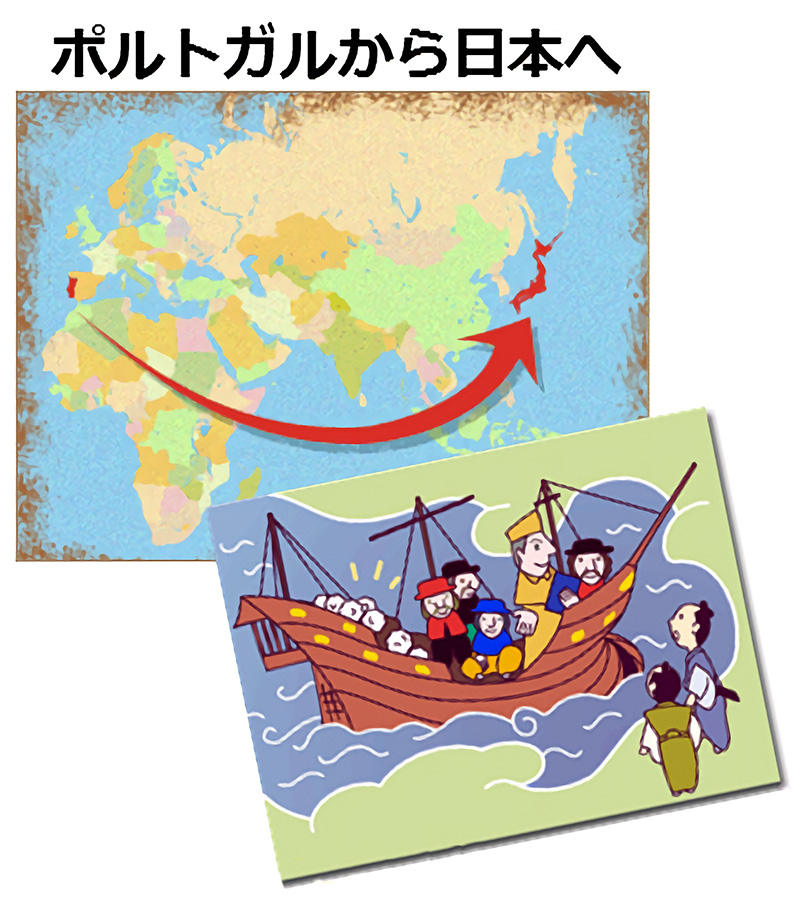 From the Azuchi-Momoyama period around 1546 to the early Edo period .A Portuguese missionary was presented to Nobunaga Oda to obtain permission for the mission, and Nobunaga, who was a big sweet lover, loves this kind of sweets .
At the beginning, the production method was a secret, and Japanese people studied the production method for nearly two years, and it was made in Nagasaki from 1688 (the first year of the first year of Genroku). The craftsman is a delicate confectionery that is very laborious to heat and heat a kettle with a diameter of 2m or more to 70-80 ℃ and crystallize it by 1 mm per day . The room temperature in the manufacturing plant can be close to 50 ℃!
Until konpeitou is made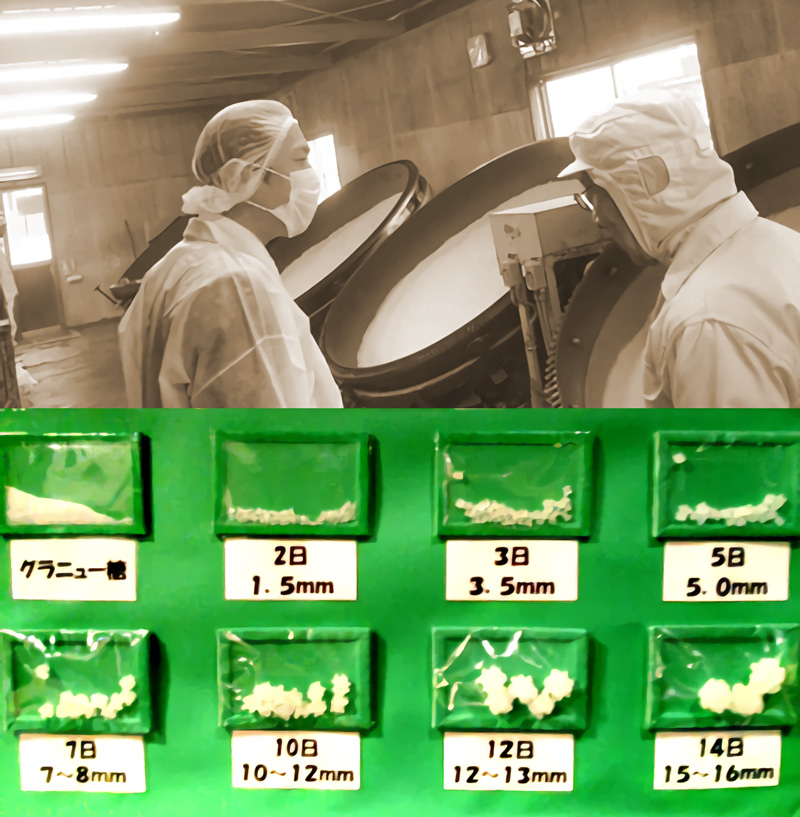 Made from a single granulated sugar. Manufacture is a simple task, but it is very sensitive because it depends on the temperature, humidity and room temperature of the day.
Based on years of craftsmanship and expert experience, the shape and shape of konpeito can be shaped by constantly changing the speed and inclination of the kiln, spraying molasses, and mixing. The "Nao brand" konpeito has created this delicate manufacturing process over time and finished it with a gentle taste.

What's New
News&Recruitment Information
02/01/2020

Job openings for JR Beppu Station open for grand opening!

NEW

02/01/2020

"Compeitou Cafe" Oita 1st Anniversary!Oita Station Amu Plaza 3FUntil 14th Valentine

NEW

01/15/2020

Currently open from 1/17 (Fri.) to 1/26 (Sun.) on the first floor of Nara "MiNaara"!

NEW

01/15/2020

"Shiawase Koi Musubiyaki" is now on sale!AMUPLAZA Oita1F~1/26(Sun)
>

01/07/2020

1/14(Tue)~1/26(Sun)AMUPLAZA Oita1FOPEN!!

11/25/2019

Finally decided to start selling in December! ShiawaseKoiMusubiyaki

11/24/2019

Annual! Open at Kitakyushu Airport Festival!