About
About Nao Brand Co., Ltd.
Overview
Established in 2013, we are a company based in Fukuoka Prefecture, Kobe City and Oita City. We are developing as an original confectionery manufacturer, retailer and wholesaler.
Recognizing the decline in the traditional culture of Konpeito, in 2014, we opened the first "Kopeito Cafe" in Japan as the confectionery maker.
We devised a number of cute and delicious cafe sweets menus, featured on national TV programs as "cafes you want to go out of the way", and gathered topics as they were covered and published in newspapers nationwide.
At the same time, when we started selling handmade konpeito in a colorful design as a product sales, it was spread by word of mouth, supported by young women.
As a retail / wholesale department, we have commercialized confetti that has a sense of wisdom, and expanded its sales channels to many commercial facilities such as department stores throughout the country. However, mass production is not possible due to manual work, but in about 3 years after the sale of special events, sales in various department stores, specialty shops, and station buildings from Okinawa in the south to Hokkaido in the north I did it.
In addition, branch offices can be opened in Kobe and Oita, receiving offers from Kitakyushu City (Industry and Economic Affairs Bureau) and Fukuoka Prefecture (Tourism Division). It is published and has opened for various events.
Currently, in addition to restaurants, we have opened a new brand "Renjyukadou" from Kobe, adding newness as a "fashionable Konpeitou original brand" that bears Japanese traditional culture. We will expand the number of outlets and events.
number of employees
■about 56 people nationwide(Including part-timers)
Concept
■While respecting history and traditional culture, as a confectionery brand maker that sticks to fashion one by one, creating a luxury brand of Konpeitou made over time and effort
■Improve recognition and historical value of Konpeitou culture rarity
History
■Established retail business and housing equipment division as a private store in November 2002
■Established a corporate company in August 2011
■Established a bridal division in November 2012
■2014.05 New store Nao bride bridal division store expansion
■2014.07 Confectionery brand first store as a manufacturer in Kitakyushu City Kokura-ku Konpeitou Cafe grand opening
■2016.04 to and tasty Suites nationwide Suites photo shines in the photo graph 10 election (photogenic) the only chosen in Kyushu
■2017.03 JR Hakata City Amu Plaza to the second shop grand opening
■2017.08 house confectionery manufacturing plant expansion
■2018.02 3shop grand opening in department stores collet Izutsuya department store underground
■2018.04 4shop grand opening at Nishitetsu Chachataun the first floor
■2018.09 Kobe branch office was established. Department store Kobe Daimaru: Grand opening of the 5th store on the 1st basement floor
■2018.12 8Grand opening at Hakata Bus Terminal Store (Fukuoka Specialty Products Corner)
■2019.02 Established Oita branch. To JR Oita Station Amu Plaza 6shop grand opening
■2019.07 in Kobe Harborland 7 shop grand opening
■2019.09 8shop grand opening in Saga Station
■2019.11 Renjyukadou official website released
■2019.11 Renjyukadou onlineshop website released
■2019.11 8shop Grand opening of confectionery factory in Oita


Store Guide
Introduction of permanent stores outside the store
≪38 stores nationwide (as of February 2020) ≫
Oita Station Amu Plaza, Daimaru Kobe, Kitakyushu Airport, Kokura Station Sunflower Plaza, Aeon Wakamatsu Tsutsuya, Yamaguchi Izutsuya, Sun Live Wakamatsu Itsutsuya, Sun Live Mori Tsunei Tsutsuya, City Hall Store, Hello Park Otemachi Store, Tenmaya Fukuyama Store, Tenmaya Alpark Store, Tenmaya Midori, Tsuruya Department Store, Meitetsu Department Store, Himeji Sanyo Department Store, Shizuoka Hamanako Kantaro Sasazuka Store, Nagasaki Iojima Island Lumina, Yume Town, Sapporo Tokyu Hands, Hakata Bus Terminal, Tokyu Hands Chiba Sakai Store / Okayama Store, Shin Shizuoka Cenova, Izutsuya Head office, Daimaru Matsusakaya, etc.
Main business partners and event information (as of February 2020)
Amu Plaza Oita, Izutsuya Main Store, Kitakyushu Airport, Kurosaki Izutsuya, Yamaguchi Izutsuya, Daimaru Kobe Store, Kurosaki Mate, Hello Day, West Japan Railway Chacha Town Kokura, Nagasaki Automobile Coco Walk, Aeon Mall, JR Nagasaki City, JR Hakata City, JR Kagoshima City, Tokyu Hands Oita Store, Nagasaki Store, Hakata Store, Kumamoto Store, Chiba Sakai Store, Himeji Store, Nagasaki Airport, Nagasaki Hamaya Department Store, Kitakyushu City Utsunomori Zoo, Animal Protection Festival, Kumamoto Tsuruya Department Store, Hiroshima Fukuyama Tenmaya Department Store, Alpark Hiroshima, Sanyo Department Store (Kyushu Grand Product Exhibition), Meitetsu Department Store Main Store, Star Flyer, River Walk, Yamagataya Department Store, Park Place, Tokiwa Waseda Town, Isetan Mitsukoshi, Hakata Marui, Corona World, Yasuki Iojima, Nishitetsu Store, Yume Town, Kobe Marui, Shimonoseki Daimaru, Daimaru Sapporo, Sapporo Tokyu Hands, Hakata Bus Terminal, Fukui Hapirin Mall, Okinawa Ryubo, Hankyu Department Store, Loft, Kyoto / Shizuoka Isetan, Daimaru Ashiya / Suma, PARCO, Abeno Q's Mall, Kobe Harborland, Sendai Department Store Fujisaki , JR Saga Station, Keihan Department Store, Shin Shizuoka Cenova, Hamamatsu Station Mayone, Laraport Koshien, Seven & i Holdings, Kuzuha Mall, Kintetsu Department Store, Miyazaki Station, Minara, Mount Fuji Shizuoka Airport, Sendaiairport, BeppuStation etc.
List of offices
■Naobrand | Own factory
  1F 1-8-15 Saburomaru Kokurakita-ku,Kitakyushu city, Fukuoka-ken, Japan
■Oita headquarters | Second own factory
  5-3-7 Oishimachi Enokuma,Ooaza Oita city, Oita-ken, Japan
■Renjyukadou | Headquarters and EC Division
  Website https://renjyukadou.com
  Onlineshop https://shop.renjyukadou.com
■konpeitouCafe | Kokura Store Kitakyusyu City Antenna Shop(restaurant)
  2F 1-16-2 Nakashima, Kita-ku, Kokura, Kitakyusyu city, Fukuoka-ken, Japan
  TEL:093-383-8977
■konpeitouCafe | Hakata Bus Terminal Store(Fukuoka special product corner)
  2F Hakata Bus Terminal 2-1 Chuougai Hakatastation, Hakata-ku, Fukuoka city, Fukuoka-ken, Japan
■konpeitouCafe | JR OitaStation AMU PLAZA
  3F 1-14 Kanamemachi, Oita city, Oita-ken, Japan
  TEL:097-574-7485

Media
Newspaper publication (21 companies in total)
Nikkei Shimbun, Tokyo Shimbun, Sankei Shimbun, Nagasaki Shimbun, Saga Shimbun, Yomiuri Shimbun, Mainichi Shimbun, Asahi Shimbun, Asahi Shimbun, Nishi Nihon Shimbun, English Shimbun, NY Shimbun, Sports News, Kyodo News, Fukuoka Economy, THE JAPAN NEWS Newspapers, SNS reporting department, Fukui Shimbun, etc.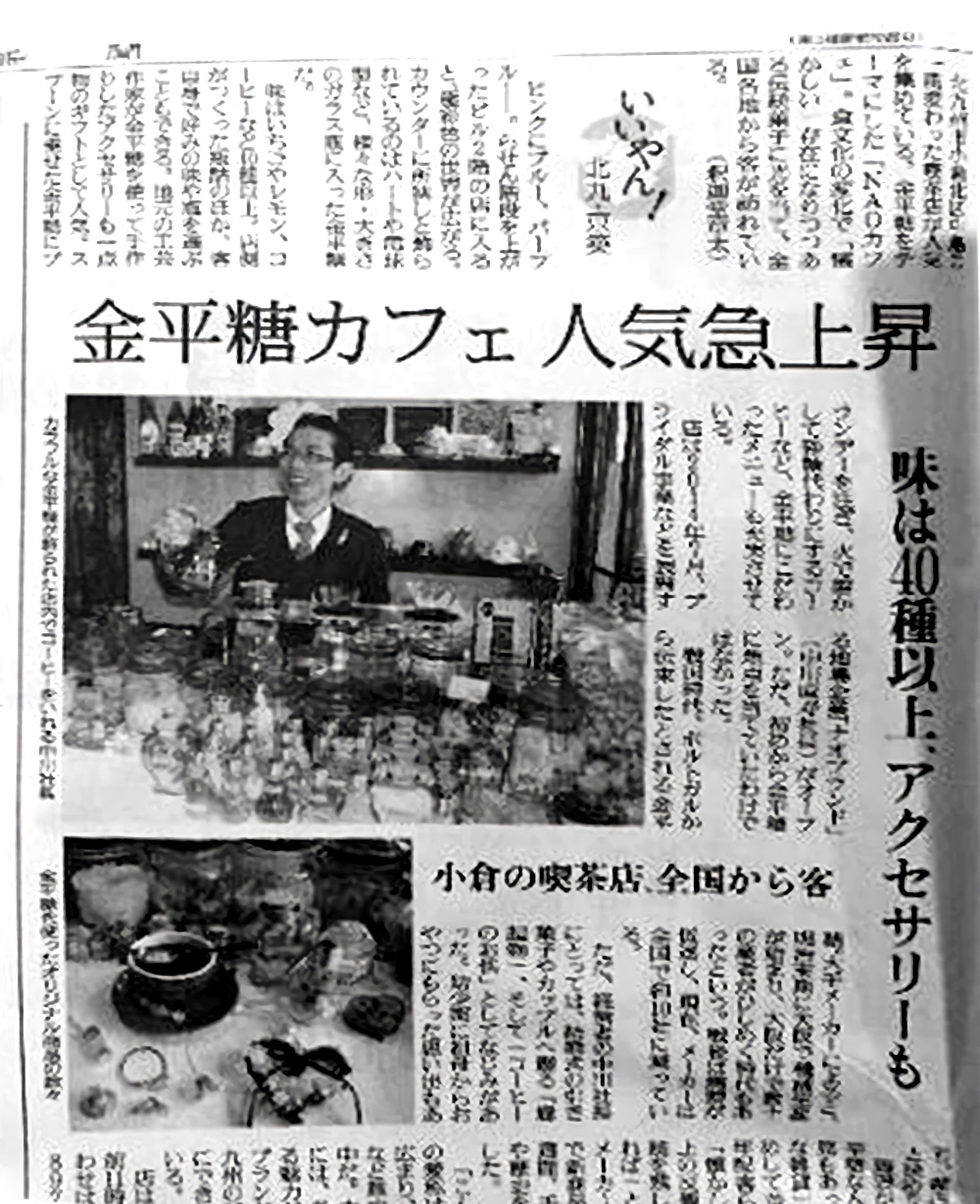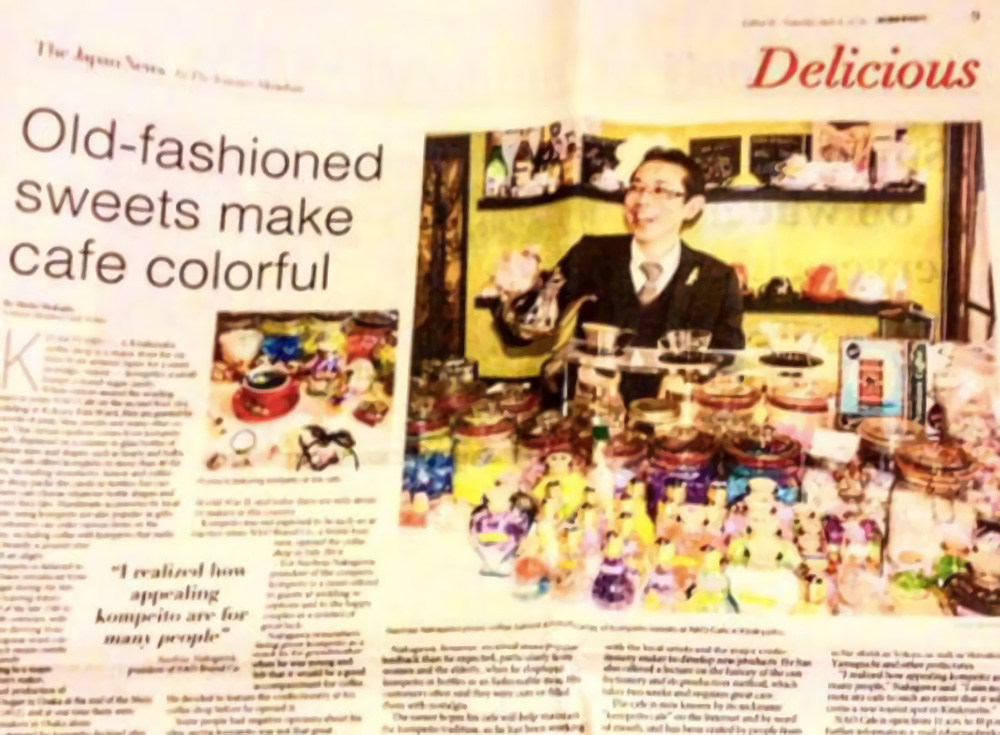 TV coverage
Shizuoka Daiichi TV etc.